Playing at the next level
Playing soccer at the next level is a goal for many players. In fact, 93% of Girls Academy players have indicated playing soccer in college is a goal of theirs. Our hope is the Girls Academy provides athletes the platform to showcase their talents and achieve the next step in their soccer and life journey.
Through the first one and a half years of the league, more than 600 players have committed to continue their soccer journey in college and the list continues to grow. Explore some facts and the list of commitments by graduating class below.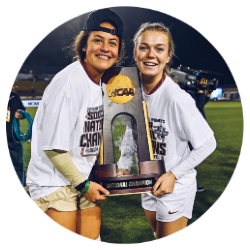 "Competing in Girls Academy gave me the confidence and experience necessary to play at the next level. The league provided not only competitive games and tournaments, but constant exposure by both national staff and collegiate coaches. I was extremely prepared to take on the challenges of collegiate soccer."
Mia Justus, Florida State (IMG Academy)
Each year we ask our players to submit their commitments. To date, we're elated to say over 600 players have committed to play soccer at the Division I, Division II, Division III, and NAIA levels. To learn more about each graduation class, click the year below. 
Are you in the Class of 2024 and would like to submit your commitment info?